The Suite Voltaire
Crowning the building, tucked away on its top floor, the Suite Voltaire is a château within the Château and offers a rare and splendid view over the legendary rooftops of Paris beyond the green terrace created by the landscape designer Louis Benech. A magical foretaste of morning walks in the Saint-Honoré quarter and the ideal starting point for enjoying beautiful evenings in the capital, this apartment is an experience in itself.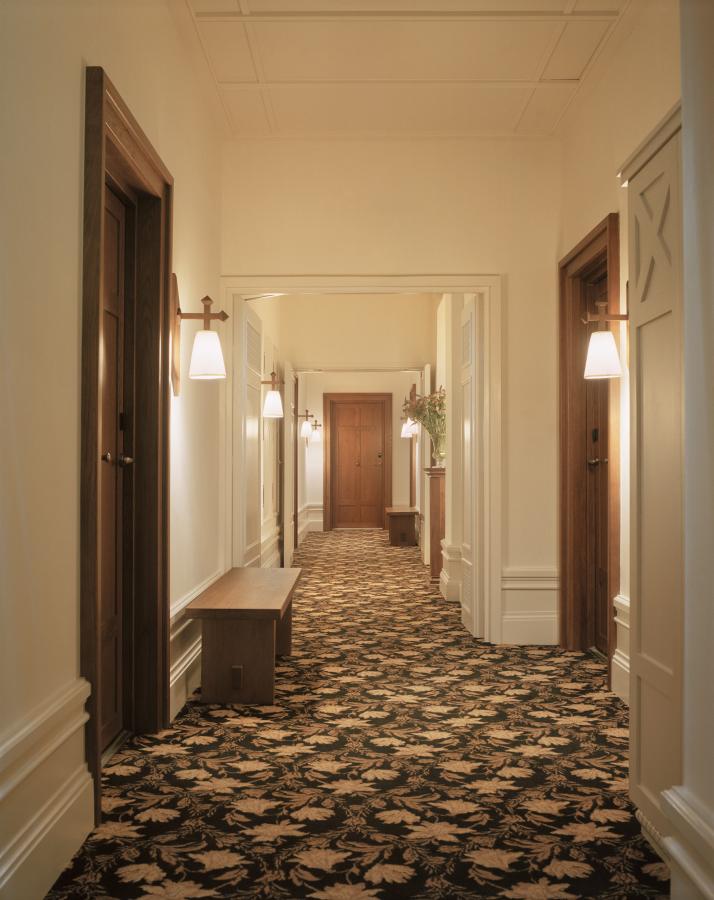 Suite
Here is a wonderful way to reach for the Parisian sky. Take a luxuriously relaxing break for a few days in this beautiful suite occupying the top floor of Château Voltaire. You will be at home here; free to stroll in this designer setting opening onto a verdant private terrace designed by the landscaper Louis Benech. After braving the bustle of the streets of Paris, you can enjoy the calm of its rooftop view of a legendary urban forest with a grey canopy that stretches between the sky and the Seine. Through the hours, as the light changes, the decor plays with its trompe l'oeil. With the doors closed, you are alone in the world, living in this suite as on an island… but in a château!
Dining room
What if the most exclusive restaurant in Paris was part of your suite? Integrated into the apartment or available for private hire, the dining room of the Suite Voltaire is equipped with a kitchen for organising small dinners or receptions. The timeless and elegant setting of this gourmet alcove will lend itself equally well to professional dinners and romantic interludes.
Terrace
A swathe of greenery separating the apartment from the sublime calligraphy of the Parisian rooftops, the terrace of the Château Voltaire has been imbued with passion and delicacy by the landscape designer Louis Benech. Acclaimed for his gardens around the world, the designer conceived this green space as a cornucopia of surprises, an orchard where fig, blackcurrant and apple trees reach for the sun alongside fragrant and wild flowers. Integrated into the apartment or available for private hire for events, the terrace has already made its way into the list of the best kept secrets in Paris.
Our flat services

Room service

Minibar

Bathrobes

Hair dryer

Slippers

Free wifi

Safe

Iron and ironing board

Smart TV

Hospitality products